Official federally approved roll-up signs in homeland security Pink on durable vinyl with plastic corner-pockets and heavy-duty fiberglass rib supports.
| | | | | |
| --- | --- | --- | --- | --- |
| | | | | |
| EM-AA | EM-ADA | EM-W3-4 | EM-W9-3 | EM-CP |
| | | *ERSI recommended | | |
| EM-DA | EM-D with Overlay | EM-ESA | EM-FAKO | EM-FTA |
| | | | | |
| EM-FTC | EM-IA | EM-PTA | EM-SBEZ | EM-SRC |
| | | | | |
| EM-SSCA | EM-SCA | EM-SPSC | EM-TEA | EM-TREA |
| FW8-6a | FW21-8 | FW25-1 | FW25-3 | FW25-4 |
| FG20-11 | FG21-1 | FG21-1a | FG21-2 | FG21-4 |
36-inch (List $98.00) $88.50 – 48-inch (List $148.00) $132.50
Prices include heavy-duty fiberglass rib supports compatible with any sign stand recommended for use with roll-up signs, including the popular spring-loaded Dynaflex, Uniflex or springless Dynalite fold-up stands which can be seen on the Sign Stands page. 
NOTE: The federal Manual on Uniform Traffic Control Devices (MUTCD), Section 6I, NIOSH and NFPA requires first-responders to provide advance warning to motorists of incidents. These signs aid  compliance by allowing for quick emergency traffic setup.
Fold & Roll System
(Sign & Stand combined)
Fold & Roll sign for emergency traffic control



Deploys in less than 20 seconds.

 

 

Dual torsion spring and kick release system 
   Sign faces made of reflective fluorescent Pink recommended by the FHWA and NFPA for use at emergency scenes.
    The Fold & Roll system is designed for amazingly quick setup to aid fire and police to establish traffic control in emergencies when seconds count. The reflective fluorescent coral emergency sign comes in 36- or 48-inch size with standard or custom messages. It is mounted to the popular Dynaflex sign stand, with dual-torsion horizontal springs, enabling it to hold up in winds up to 65 MPH without use of sandbags. The reflective Pink demands the attention of motorists due to its unique road sign color.  Adjustable telescoping legs lock into place when fully extended, with two height adjustments and anti-skid foot pads. Holds sign 12 inches off ground. MUTCD-compliant and NCHRP approved.
Open footprint: 92 x 57 1/2 inch. Storage height: 36 or 48 inches x 8-inch. 30 lb. 
Complete Fluorescent Coral (Pink) Fold & Roll System
36-inch
Roll-up with Dynaflex DF3000X Sign Stand – $288.50
48-inch
Roll-up with Dynaflex DF3003X Sign Stand – $342.50
Fold & Roll Sign Only – for Replacement or Alternate Sign
36-inch
Pink, Orange, White, Yellow or Lime $146.50
48-inch
Pink, Orange, White, Yellow or Lime
$190.50
Heavy-Duty Storage Bag for Fold & Roll System
36-inch

   $64.50 –

48-inch

$74.50
"All-in-One" Fold & Roll System
(Reflective Vinyl Roll-Up Sign, Dynaflex Sign Stand, 8 Overlay Patches and Heavy-Duty Storage Bag)
The All-in-One Fold & Roll System joins the ease and storage capabilities of the Fold & Roll system with the versatility and economy of creating numerous messages with one sign. The kit includes a base message, EMERGENCY SCENE AHEAD, that can be changed with overlay patches of words or symbols. All-in-One system comes with a reflective Fluorescent Coral sign and eight Overlay Patches that stay firmly attached with Velcro.  Among overlay choices:  POLICE, FIRE, ROAD, DETOUR, CLOSED, TRAINING and ACCIDENT, a Single Arrow, a blank patch, 500 FT (or other distance). Heavy-duty storage bag with carry handles included for ease of handling and storage.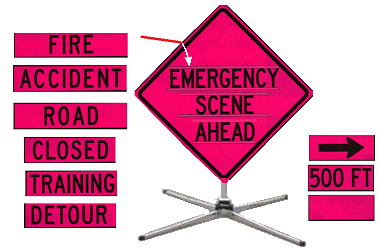 36-inch All-in-One System – $488.50
48-inch All-in One System  –  $608.50
*Add $112.50 for 24-inch Standard Reflective Roll-up STOP/SLOW Paddle with 5-foot, three-piece PVC staff.