36-inch (List $98.00) $88.50 – 48-inch (List $148.00) $132.50
(Prices include fiberglass rib supports)
NOTE: The federal Manual on Uniform Traffic Control Devices (MUTCD), Section 6I, NIOSH and NFPA requires first-responders to provide advance warning to motorists of incidents. These signs aid  compliance by allowing for quick emergency traffic setup.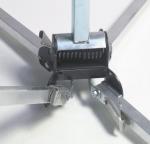 Dual torsion spring and kick release system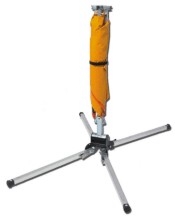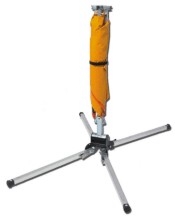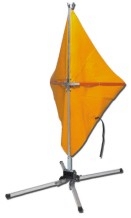 1                             2                        3

It's that easy.  Deploys in less than 20 seconds.
    The Dynaflex dual-torsion spring Fold & Roll system is designed for amazingly quick setup. The sign/stand setup shown (to left) includes a reflective fluorescent coral emergency sign mounted to the Dynaflex sign stand, which can withstand winds up to 65 M.P.H. Sign options include 36- or 48-inch sizes, with standard or custom messages,  in non-reflective orange, or reflective fluorescent orange, yellow, lime-green or white. The Dynaflex stand is made of light-weight aluminum and steel. Its telescoping  legs lock into place when fully extended. Allows two height adjustments and features anti-skid foot pads. Open  footprint: 92 x 57 1/2 inch. Minimum height from ground: 12 inches.  Storage height: 36 or 48 inches. MUTCD-compliant and NCHRP 350 compatible.
Complete Fluorescent Coral (Pink) Fold & Roll System
36-inch
Roll-up with Dynaflex DF3000X Sign Stand - 
$25
8

50
48-inch
Roll-up with Dynaflex DF3003X Sign Stand  -
$30850
Fold & Roll Sign Only – for Replacement or Alternate Sign
36-inch
Pink (Also available in Orange, White, Yellow or Lime)
$12450
48-inch
Pink (Also available in Orange, White, Yellow or Lime)
$16850
Heavy-Duty Storage Bag for Fold & Roll System
36-inch
$4850
-
48-inch
$5450
"All-in-One" Fold & Roll System
(Reflective Vinyl Roll-Up Sign, Dynaflex Sign Stand, 8 Overlay Patches and Heavy-Duty Storage Bag)
The All-in-One Fold & Roll System joins the ease and storage capabilities of the Fold & Roll system with the versatility and economy of creating numerous messages with one sign. The kit includes a base message, EMERGENCY SCENE AHEAD, that can be changed with overlay patches of words or symbols. All-in-One system comes with a reflective Fluorescent Coral sign and eight Overlay Patches that stay firmly attached with Velcro.
Among overlay choices:  POLICE, FIRE, ROAD, DETOUR, CLOSED, TRAINING and
ACCIDENT, a Single Arrow, a blank patch, 500 FT (or other distance). Heavy-duty storage bag with carry handles included for ease of handling and storage.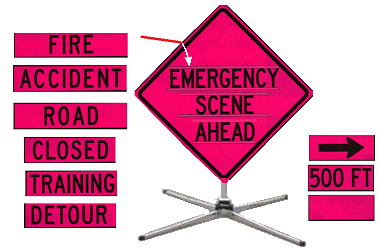 36-inch All-in-One System - $48850
48-inch All-in One System  -  $60850
*Add $9850 for 24-inch Standard Reflective Roll-up STOP/SLOW Paddle with 5-foot, three-piece PVC staff.