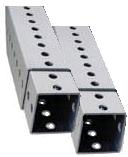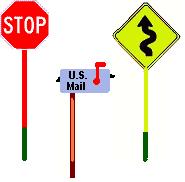 U-Channel Green or Galvanized              Round                       Square                    Post Reflectors
( Note: FedEx and UPS will deliver posts up to 8 foot long. Posts longer than 8 foot must ship via semi truck )



Green U-Channel Delineator Post

1.12 lb/ft Available in 4-, 6- or 7- foot lengths. Used for light-duty sign display and for road-side reflectors. Baked-enamel with 3/8-inch holes an inch apart.

Bundle of 50 – plus shipping (Call)

4-foot 

$8.50 

6-foot 

$12.50 

7-foot 

$14.50

 

4-foot –

$10.00


6-foot –

$15.00


7-foot –

$17.50



2 lb/ft (Most Popular) Available in 3-, 8-, 10-  or 12-foot size with 3/8-inch mounting holes. Tapered on one end for easier installation.

Bundle of 50 – plus shipping (Call)

   3-foot 

$8.75 

  8-foot 

$22.50 

10-foot 

$26.50 

12-foot 

$32.50

 



Galvanized U-Channel Delineator Post 1.12 lb/ft Available in 6-, 7- or 8- foot length. Hot-dipped galvanized (silver colored) finish promotes longer post life. Tapered at one end for easier installation, with 3/8-inch mounting holes.

 

Bundle of 50 – plus shipping (Call)

6-foot 

$16.50

7-foot 

$18.50

6-foot –

$18.50


7-foot –

$22.50




Galvanized U-Channel Post

2 lb/ft Available in 3-, 8-, 10- or 12-foot sizes. 3/8-inch mounting holes and tapered at one end for easier installation.


Bundle of 50

– plus shipping (Call)

3-foot

$12.50

8-foot 

$28.50

10-foot 

$36.50

12-foot

$44.50

 

3-foot –

$14.50  


8-foot –

$32.50


10-foot –

$39.50


12-foot –

$48.50



2 3/8-inch outside diameter round galvanized pipe post. Available in 5-foot (for portable sign stand base) or stand-alone 8-, 10- or 12-foot length. 16 gauge, with .065-inch wall.

Bundle of 37 – plus shipping (Call)

  8-foot 

$28.50

10-foot

$36.25

12-foot 

$44.50

5-foot – $22.50
8-foot – $34.50
10-foot – $42.50
12-foot – $48.50



1 3/4-inch 14 gauge perforated with 7/16-inch mounting holes. Available in 5-foot (for portable sign stand base), or stand-alone 8-, 10- or 12-foot length. Also can be inserted into 2-inch square 3-foot Anchor Post (12 gauge, shown below) to create break-away system.

Also available in 2-and 2 1/2-inch square sizes. Call for quote.

Bundle of 25 – plus shipping (Call)

  8-foot

$38.50

10-foot

$50.50

12-foot

$60.50

5-foot –

$26.50


8-foot –

$42.50


10-foot –

$54.50


12-foot –

$64.50
3-foot (2- or 2 1/4-inch) square 12-gauge perforated with 7/16-inch holes every inch. Accepts 1 3/4- or 2-inch square post top to create a break-away system. Connect top post to anchor with Corner Bolt or 3/8-inch Drive Rivet.

Bundle of 25 – plus shipping (Call)
3-foot X 2-inch square $24.50
3-foot X 2 1/4-inch square $26.50

3-foot X 2-inch
Square Post Anchor

3-foot X 2 1/4-inch
Square Post Anchor

$29.50
Post Surface Mount Bases & Couplers




U200 U-Channel Lap

Hardware for joining two sections of U-Channel post to make a break-away system. Designed to break away at connection. Includes two bolts, locking nuts, washers and spacer bar.
$10.50

Economy Round Pipe Post Base
Cast-iron base designed for 2 3/8-inch outside
diameter round pipe post with four 5/8-inch holes for mounting to concrete. Used to permanently and securely install 8-, 10- or 12-foot pipe post. (Anchor bolts/nuts not included).6 lbs
$39.50

Economy Square Post Base


10-inch x 1/4-inch steel plate with four 1/2-inch mounting holes welded to 10-inch tall 2-inch square perforated post with 7/16-inch holes at every inch on all four sides. A 1 3/4-inch square post top telescopes into base.

Supports

attachment of 8-, 10- or 12-foot square post to concrete.

(Anchor bolts/nuts not included).

$64.50
Also available: 2 1/4-inch stub to accept 2-inch post top $68.50 

10-inch x 1/4-inch steel plate with four 1/2-inch
mounting holes welded to 10-inch tall 2 lb/ft U-Channel stub with 7/16-inch holes at every inch. Supports attachment of 8-, 10- or 12-foot u-channel post to concrete (Anchor bolts/nuts not included).
$62.50


U-Channel Surface Mount Base


Breakaway system for use with 2 lb/ft U-Channel Post installed with three bolts in concrete Base made of anti-rust galvanized cast gray iron, and withstands winds up to 120 mph NCHRP 350 crash-test compliant.




SU800S

(Detail)

–

$132.50


Square Post Surface Mount Base


Breakaway system for use with 1 3/4-, 2- and 2 1/2-inch square post installed with three bolts in concrete. The surface mount base is made of anti-rust galvanized cast gray iron, and withstands winds up to 120 mph NCHRP 350 crash-test compliant.

 
S175S (1.75) 

(Detail)

$128.50




S200S (2) 

(Detail)

$130.50




S225S (2.25) 

(Detail) $132.50


S250S (2.50) 

(Detail)

$134.50


Round Post Surface Mount Base


A breakaway system for use with 2 3/8-inch outside diameter round pipe post. Installs in concrete with three bolts. The surface mount base is made of anti-rust galvanized cast gray iron, and withstands winds up to 120 mph. NCHRP 350 crash-test compliant.




S238SR (8-16 ga.)

(Detail) 

$162.50


Round Post Coupler
Allows top-to-anchor (in-ground) connection between two posts. Designed as a safebreak-away system for round posts Coupler is made of anti-rust galvanized cast gray iron, and withstands winds up to 120 mph. NCHRP 350 crash-test compliant.


S238R (13-16 ga.)

(Detail) –

$76.50
Post Protector Base
Post Protector Base

– Polyethylene base can be used with any type post – square, round or u-channel. Contains 4-inch round insert in which to set post and fill with concrete, leaving the outer chamber empty so it's more portable. Or fill outer chamber with sand, gravel or concrete for a permanent sign placement. Also can be used on existing posts. Base is 26 inches wide and 22 inches tall, with .1875-inch wall thickness.

Empty weight, 15 lbs. Filled weight (with sand) 400 lbs.
Bollard Covers
Bollard Covers

 – 

Maintenance-free polyethylene Bollard covers, with or without pair of reflective stripes, available in a variety of colors: Yellow (most popular and available), Red, Blue, Black, Gray, White, Green or Orange. Slides over existing post and is fade-resistant. Immediately improves property appearance. Various available sizes:

 
Surface Mount Delineator Posts
 Surface Mount Flat Delineator

for high-traffic,

high-impact sites. Outlasts all competitors' delineators.

Withstands 75 or more hits at 55 mph. Easy to assemble and install.

Mounts to concrete, asphalt, wood or other hard surfaces

with lag bolts, butyl rubber or epoxy. Colors – Red, White,

Yellow, Brown, Blue, Green, Orange or Gray. Add $4.00 for 3×12-inch

High Intensity reflective Orange/White Barricade Tape.

(Choose Right or Left stripes).

  Surface Mount Tubular (round) Delineator

with 360-degree visibility. Can take up to 75or more hits at 55 MPH.
Available in White, Yellow or Orange. Add $4.00 for

3×12-inch High Intensity reflective Orange/White barricade tape.
Surface Mount Delineator Adhesive Options

  Thermo Pad

for permanent, long-term application) 8×8-inch Black. Heat with torch and apply to dry, clean surface.

 

$4.50

   Thermo Butyl Pad

for temporary use, such as construction. Heat with torch and apply to dry, clean surface. Approximately 30 pads per roll  

$79.50

Two-Part Epoxy

for permanent installation. Point-and-shoot epoxy with standard caulking gun. Each tube comes with a specially designed nozzle that pre-mixes each component for a quick installation. Each tube installs 6 to 7 bases.  

$28.50

 
In-Ground Mount Delineator Posts